SAISON 2021
See the different pot sizes available on the 2- page order form.
PRESENTATION :
More than 50 varieties of macrophylla hydrangeas and 6 garden hydrangeas are proposed.
Use only the white spaces. They show you the right pot diameter according to the varieties.
SMALL ORDERS :
Yes it's possible at SICAMUS, for minimum of 2 trollies.
Additional information :
– 1 sole trolley is also possible with 80 € extra fee. Transport is indeed a necessary service for getting orders to you.
– 2 trollies possible also, with 40 € extra fee.
– Please confirm your order, specifying only one size (Ø) and one variety/shelf. Please refer to the order form or packaging.
LABELS :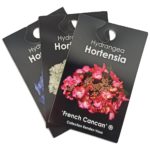 We also propose variety-labels. (No generical labels).
Remember to check label space and you will receive them with your delivery. (box on the trolley).
BLUEING :
Hydrangeas blueing,
Aluminum sulfate on request; specify how many kgs
BIG SPECIMENS :
If you are looking for beautiful or giant specimens, please consult SICAMUS's suggestion on page 2 of the order form..
GARDEN HYDRANGEAS :
A selection of the best crops. For sales to individual customers. Use PANICULATA also on 7 to 10 liters and on cold production. Consult us !
PRICES :
Contact us for the best offer according to your quantities and delivery sites.
TECHNICAL ADVICE FOR VARIETIES :
We are here to help you in choosing varieties according to your area or country. We will be happy to give you advice..
Forcing, cold production and a few extra ideas for certain ranges.