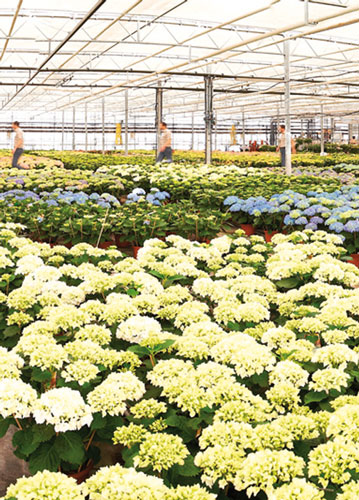 Sicamus A European leader in hydrangeas
A European leader in hydrangeas (80% exports) SICAMUS produces 2 million hydrangeas each year over 70 acres of production.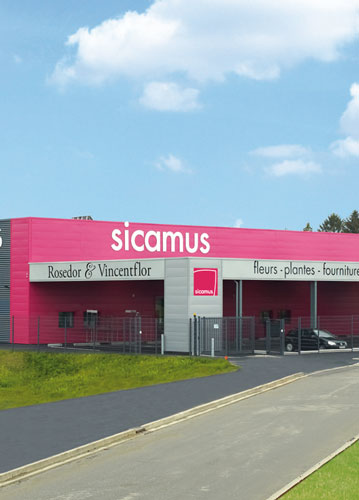 Sicamus Cash and Carry
Service and proximity of the stores
As the biggest French distributor of plants, floral compositions for florists and decorating, Sicamus offers services close to you over more than 25,000 sq meters and 4 stores : Angers, Nantes, Bordeaux, Le Mans.
GROUP MANAGEMENT
Christophe CAMUS
Chairman of the SICAMUS Group and production manager (partner)
Philippe CAREAU
Managing Director of the SICAMUS Group (partner)
Didier AUBRY
Purchasing Manager of all Cash and Carries (partner)
Jean-Yves COULBAULT
Sales Manager France – Exports (partner)
Benoit BARRON
Sales Manager of all Cash and Carries
---
COMPANY HISTORY
For over 70 years, the Sicamus Group has pursued steady well-menaged growth.
1951
The SICAMUS Group was created.
---
1989
The very first self-service plant site for professionals was created and named : Cash Anjou in Angers.
---
1996
A second store for professionals was opened in Nantes.
---
2000
Hydrangea production reaches 2 million plants. Exports are already 70%
---
2002
A third Cash&Carry opens in Bordeaux.
---
2006
The R&D department is created in the company.
---
2009
The SICAMUS Group decides to place all subsidiaries under the name SICAMUS (for Cash&Carries, distribution and production)
---
2010
Another Cash&Carry is opened in Le Mans.
---
2012
New varieties from the Research and Development dept. arrive on the market with the collection name "Rendez-vous"
---
2014
New management within the Sicamus Group
---
2015
The online store is opened.